Learn More About How iRemember Can Help You
Your iRemember talking weekly pill organizer helps you remember to take your medications or supplements day or night, wherever you are. Whether on the go or as part of your at-home routine, iRemember takes the guesswork out of medication control. Our talking cap attaches to the 7-day organizer compartments, but you can increase and decrease the number of compartments to suit large pills / eye drop bottle or to carry a smaller number of pills with you on the go.

To save time sorting pills, use the adapter to connect iRemember talking cap to common pharmacy bottles (13 dram and 20 dram) and retain the label information.
Frequently asked questions
By pressing the Status button, the iRemember cap will notify you of the last time it was opened, speaking the hours in the language programmed. If you wake from sleep or do not remember due to distraction or a fuzzy memory, press the cap and hear last opened 2 hours ago, letting you know that you likely took the pills recently.
The Last Opened status is also communicated by using three lights on the Cap. A green light shows you are on schedule, a red light indicates that a dose was missed. Our color system is based on the universally understood traffic lights; where green means go, and red means stop. Just as traffic lights help prevent vehicle accidents by directing the flow of traffic, iRemember helps reduce underdosing and overdosing events which may lead to preventable medical complications or issues.
Frequently Asked Questions About iRemember
How do I pair the device bluetooth to the iRemember app?
First, download the iRemember app onto your iOS and Android phone from the App Store and Google Play.
The Cap Bluetooth turns ON whenever you press the status button for the Last Opened notification.
To turn OFF the Bluetooth from the Cap, press the status button for 6 seconds. A magenta light confirms the Bluetooth is off. If you see a red light following the magenta, it means the cap lost connection to the iRemember app. 
Is the Battery Rechargeable?
Yes, the internal battery is rechargeable and can be powered with any microUSB or can be charged with a powerbank. A 3-hour charge will typically last a week. We suggest a routine of charging cap when refilling pills, so that you never forget to charge your
iRemember.
Do I Need a Phone to Use iRemember?
No, the device works by itself without additional support, but the features can be expanded by utilizing the smartphone app that is optional with purchase.
iRemember s cap provides a talking menu, which may be set to repeating time intervals of 24 hours, 12 hours,or 6 hours for once, twice, and thrice daily medicine schedule. When you finish taking pills or take them as needed (PRN), simply set the timer to Clear.
The talking cap is made to be set it and forget it meaning every time the cap is opened, the timer restarts automatically. When the timer ends, iRemember signals with an elegant water drop effect and voice quality message pill time. The water drop reminder replays every 30 seconds and reset when the cap is opened, or you may skip the dose by pausing reminders until the next timer interval by pressing the Status button.
Can I Use It with Multiple Medicines?
Yes, multiple medications and multiple doses may be organized within the compartments utilizing internal dividers. We offer extender rings for compartments to hold large pills or an eye drop bottle.
What Is Your Return Policy?
We do accept returns. Return any of our products within 30 days of purchase.
Do You Ship Overseas and to P.O. Boxes?
Yes, we ll ship your package anywhere that can accept deliveries. To process deliveries in a uniform and cost effective manner, for international shipping, the buyer is responsible for customs duty and fees.
Do You Have Customer Service?
Of course! Our friendly and knowledgeable customer services reps are available to answer your questions 24/7/365.
Frequently asked questions
Contact Us Today to Learn More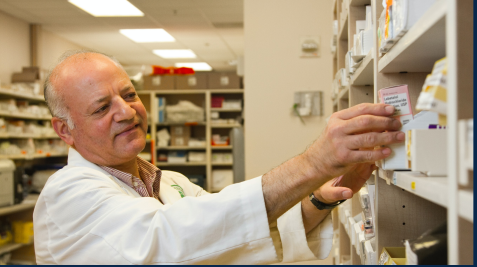 For Medical Professionals
iRemember can be recommended to patients to improve drug adherence and avoid under or over dosing.